Water Testing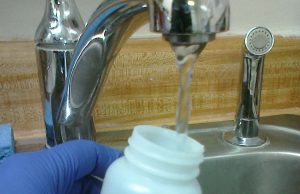 By knowing what contaminants are in your water and understanding the quality goals you have set, Everclean can install the proper water treatment system for you.
Everclean Water Treatment Systems has set itself apart in the industry, as we are capable of implementing the variety of water treatment equipment we sell and install, even in large amounts, while still maintaining a personal touch and competitive pricing. Our business model is simple: we are small enough to care, but smart enough to provide exceptional service.
Please contact Everclean Water Treatment Systems for more information or to request a water treatment consultation. You will begin to experience what quality water can do for your family or business.
Don't let anyone talk you into buying a water softener, water conditioner, water filter or other treatment device without first learning what is in your water and knowing what you're trying to achieve. Water tests and treatment consulting is our specialty. Everclean has been doing this for 15 years. We know our water, and we know what is required to properly analyze and test your water. Conducting business with independent local area labs is important – they themselves are experts in testing water under local conditions.
Please call Everclean today so we can give you a complimentary water test* and help you to know what clean water really is.